It drives me crazy to see so many different personalities in the fitness industry claiming to have the "secret". It's crap. The only thing that the truly legit guys have is EXPERIENCE. Not a magic pill or exercise that makes it all better. They have the past 10+ years of knowledge to tell you to STOP looking for that "secret" because your just wasting time. I have a part one to this post that deals with mostly strength training tips so this one will be a little different.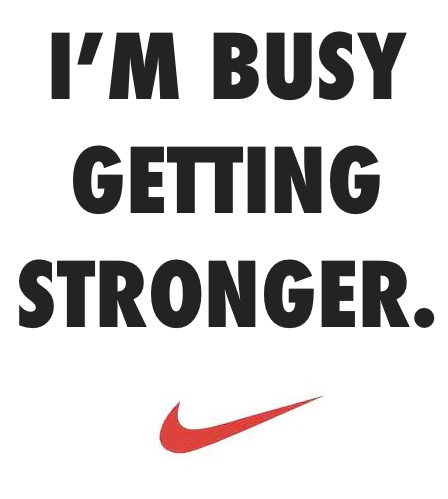 If you want to see that first article check it out here:
5 Ways To Improve Your Workouts and Body
Okay back to my rant..
I want you to take a deep breath and stop burning up your computers hard drive spending so much time searching for the best thing. The industry has to label their technique or style as the "secret" just so people will ask questions or go after and buy whatever it is you offer. Without those key words there would be a crap ton of people just sitting on the "shore" of seeing some of the best results they have ever had. Instead they walk back and forth on the beach too scared to really jump in and take a freakin swim. Little do they know the guys swimming around are getting jacked because they don't have time to spend all day testing the water. Does that make sence? Analogies arent my thing
Here are 6 of the things I strive to live by daily when it comes to seeing the results I get.
1) Don't idolize anyone: We all have our super heroes when it comes to the hobbies we love but when you base your results off of that one person you will constantly fall short. I have met a few people who have taken figures they admire and placed them on such a high pedestal that they think that everything that person can do they should be able to do also. This can be a good motivator but it can come back to ruin your drive and passion when you constantly fall short. In my experience having training partners I have come across a few that would always put themselves down just because I was stronger than them or the guy lifting beside us could do more weight. Its like every dude that walked by became his goal and he would never stay focused at the task at hand.
Don't base your success around anyone else but yourself. Set small goals and reach them. Add more weight, do more reps, get stronger. Your on your way to becoming the best version of yourself don't get caught up in what joe shmow is doing and get bent around your lack of ability.
2) Learn Your Body: This is my new-found passion. I am not old but I am definitely not the little high school wrestler I used to be. Things change. What didn't bother you 8 years ago may start to bother you now. Thats okay. Your body is always changing year after year. Take these changes and turn them into a positive. You have been doing the same tired flat bench press since the Christmas your parents bought you your first weight set (circa 1999 for me) If your still trying to lift heavy today your shoulders could possibly be a little upset with you. It's all good!! Thats what neutral grips and dumbbells are for. Don't get all bent out of shape because now your shoulder feels weird when you position it a certain way. You would be surprised how many people you interact with daily who have some kind of issue with their body. Some of the greatest lifters or health fanatics in the world have small tweaks or pains here and there from time in the gym.
Turn your focus to lifting heavy but SMART. If it hurts to lift one way then here is my $100 secret…don't lift that way.
;
3) Train for your body type: This one could be a book so I am going to keep it short. DON'T just open your favorite lifting magazine and find the most jacked dude and do whatever he did. You will fail. What do your genetics tell you? Me personally, I come from a very skinny family. The size that I have put on has taken me years of hard work and dedication. I wasted a lot of those years training like Jay Cutler. Big mistake. I focus my workouts around a single compound lift and add in secondary and accessory work around that. Here is a video of what I am talking about: Best Training Program Parameter
Some bigger guys respond better to a progressive work set ending at a maximal lift while other do better with high sets low reps. You need to play around with how your body reacts to the training style. Who cares what such and such says. Figure out what works for you and stick with it. If you're a skinny dude don't make the mistake of doing the typical body building style of workouts. Build a solid foundation around squats, deads and presses then as you improve add in the isolated work.
4) Learn to stand behind your opinions: There will always be someone to tell you what you're doing is wrong and that it will never work. Forget those guys.
For example:I personally think straight bar curls are the best bicep exercise in the world. Aside from squats, lunges make butt cheeks grow so if you're looking for big arms and big butt cheeks then there ya go
. Wide squats put a crap ton of strain on your hip joints…don't do them. Heavy lateral raises are bad for your shoulder joints…don't do them. These are all things that I know people would have a negative reaction to. Thats your opinion. One of the biggest things I have learned over the past few years is if you believe something works and you see it happen then stick to it. Who cares if its different or not the norm. Just rock it out! So many awesome personalities and ideas get flushed out by what our culture says is unacceptable.
5) Don't lose yourself in intensity: I remember in highschool we would go into the gym and wouldn't walk out for a good 2 hours. It was crazy! We did the typical bodybuilder split and to finish each exercise we would do a negative set with HEAVY weight. I was constantly beat up. At the time I thought it was a good thing. I always told myself that unless I was sore for days after I trained I didn't do enough. Man have times changed.
Don't get me wrong I love a little soreness after a workout…it lets your mind know you didn't waste your time but if your training every day to a point beyond that then your never going to grow to your potential. Sore is good but if it's hindering your training the next day then you did too much. intensity does need yield better results. controled, quality lifts do. I train 4 days a week doing two upper body splits and 2 lower body. If I train legs for a full hour with heavy weight than expect to train at the same intensity two days later again….its not going to happen. So I cut back on my focus and stick to one or two heavy legs, go as hard as I can safely and controlled then I hang it up. I am constantly preparing my body for the next days lift. Thats what works. Don't go balls out and expect to have a solid lift the next day. your body needs more time to recover.
Thanks for reading and if you got anything from this article share it with a friend!!
William
;
;