I am very fortunate to be able to spend 9+ hours of my day in some kind of gym whether I am training clients, working out myself or just sitting around chatting. There are hundreds of others out there who don't have that kind of access. I wanted to give you a short exercise lists of the top exercises that you must do when trying to pack on muscle at home.
Shoulders: My first go-to exercise is the handstand push-up. Not everyone can do these but there are different ways you can modify this exercise for your skill level. If I am not doing those then I am grabbing whatever I can and pressing it above my head. My number one position for this is in the seated position on the ground with my legs out in front of me. I can really feel these in my core as well.
Back: Pull-ups. Simple. If you can't do one then check out Amazon.com and pick up a set of jump stretch bands. This is a tool that every gym goer MUST HAVE in his/her bag. You can use these to crush out as many assisted pull ups as you can. BONUS: If you have some rope and an extra tire laying around; tie one end of the rope to the tire, sit at the other end of the yard on your butt with the other end and see how fast you can get that tire to you. You can stack sand bags or cement bags on the tire to add a little weight. You are basically playing tug-a-war with yourself. You always win
Chest: If you don't have any kind of bench set up at the house than the regular push up is your number one exercise. There are a crap ton of different variations of these to spice things up a bit. Since I am addicted to always pushing heavier weight then I would usually throw a weighted vest on my back or a sandbag and rep out as many as I could. Chains also work very well. Attach the two ends with a carabiner, bring your head through the loop and lay the chain going down your shoulder and across your chest/torso (like Rambo would). Take a second one and lay it the opposite way. This adds a progressive resistance as the chains are lifted off the ground.
Arms: One of my biggest body weight arm exercises is the close grip chin up. I treat my body as the weight while I try and curl the bar to my chest from a hanging position. You can do different kinds of grips for these to hit different angles of the arms (you could also throw a towel over the bar to work on overall grip and arm strength).  For my triceps I usually use a triangle push up and/or dip circuit. You can do dips just about anywhere and can get pretty creative when it comes to adding weight (use small children, cinder blocks, cement bags etc.). If you have a kettle bell laying around you can  run a towel through the handle and do behind the head extensions as well.
Core: Tons of stuff out there you just need to get creative. Don't just do crunches. Try these out first!
I have a few more coming out so be sure to check back for the rest!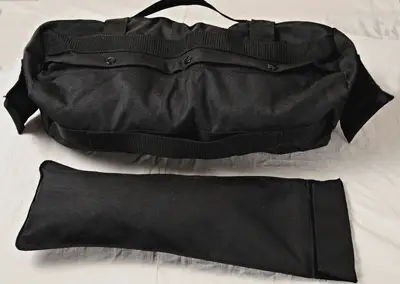 Legs: Squats, lunges and jumps….and maybe a few pistol squats. These are the basics when it comes to my leg day. I love heavy lunges!! They are awesome for stability, balance, knee strength, and overall leg development. If you don't have any kind of weight at home just grab something you have laying around your garage and start lunging around the back yard. You can do the same for squats. Use your body weight for a max set of squats or stack a few bags on your back. As far as jumps go anything explosive will work fine. Whether that's on a box you have laying around or your measuring your max standing long jump. Repeat 3-4 sets of 10-12 reps. One other favorite I have done in the past is what I call "out of the hole's" This is where you are in a deep squat position and you explode up and out into a jump. This is done with your body weight. You can always add weight but be sure your body can handle the pressure and weight before you get too crazy.